Success is achieved by developing our strengths, not by eliminating our weaknesses.
-Marilyn vos Savant
Powerful partnering can benefit both parties. How do you pair up? Strengths are never used in a vacuum.
Make the Most of Your Business Partnership
You've seen countless examples in my articles where strengths have collided, been navigated or been effectively deployed in negotiation. When it comes to strengths, there is always a ripple effect. You may be wondering how partners can magnify the impact of their individual strengths for the greater good. Here's a real-life story…
In January 2018, I entered into a new role as President of the International Coach Federation (ICF) Houston Chapter. It also brought in a new Board of Directors, including President-Elect Glenn Taylor. Glenn and I have known each other professionally through the chapter for several years. That's a plus.
Get to Know Each Other's Strengths
We both found ourselves in new leadership roles that could benefit greatly if we worked together collaboratively. But – we could also create havoc and drama if we clashed and remained in the crossfire.
Fortunately, we had the opportunity at a Board Retreat to get to know each other's strengths. That prepared us to appreciate what each brings to the table.
A Successful Business Partnership is Based on Mutual Respect
A book could be written on the elements at play here. And strengths partnering is not just about offsetting one's lesser strengths with another's top strengths. What makes the partnership work is the appreciation and respect we have for each other.
Glenn's Empathy adds richness and a focus on impact to my ability to sort solutions (Maximizer and Strategic). His Developer adds patience to my focus on excellence (Maximizer) and his Achiever helps drive action to make what my Futuristic sees as a reality.
Belief keeps us focused on our common cause of the ICF Houston Charter Chapter and the greater good of promoting high standards for the profession of coaching. Relator is key to our relationship and those we form with other colleagues, clients and leaders in our field.
Elevate & Maximize Strengths to Get Results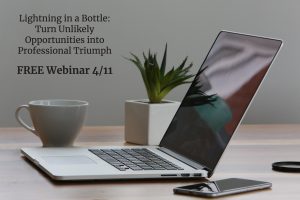 My greatest wish for you is that you can create the opportunity to know, understand and appreciate your partner's strengths. It elevates both of you and the project on which you are focused, maximizing beneficial results for all.
How can the strengths of each member of your team increase effectiveness and productivity? Connect with me and let's explore!
Heads up! Opportunity is knocking on Weds., April 11th, at my all new webinar: Lightning in a Bottle: Turn Unlikely Opportunities into Professional Triumph. Curious? Sign up here.