I get lots of requests to help people with networking. Very often, I hear statements like:
Can you talk about how to network when I am an introvert?
How do I find time to network with my work and family duties?
My manager says I need to build my network in the organization to get to the next level. How can I do that without appearing that I am just climbing the ladder?
People say that networking is the best way to grow my business, but I hate it!
Networking: One of your best strategies to succeed.
If you see yourself in any of these statements, plan to tune in for the next several weeks as we make "networking" your way of moving forward. These next few blogs are going to take you through a process to help you embrace networking with open arms and excitement.
Okay…how about just a new paradigm with which to view it and the awareness that you are likely closer than you think to doing it effectively?
You already know networking is important, but…
There is a whole lot of baggage around the term "networking". The most common reactions I get are:
It feels slimy.
It implies that I want
I hate small talk.
I end up with a bunch of business cards from people who want to sell me something.
These statements reflect how many of us feel or perceive networking. The problem with this is that a negative feeling or perception is definitely not a great place to start when we want to embrace a new paradigm.
To enjoy more success, reframe your concept of networking.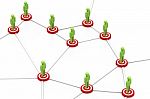 I want to help you reframe the concept of networking. To do so, I will reference a phrase that we use often to describe how to get ahead in life:
It is not what you know. It's who you know.
What reaction does this bring up for you?
I am all in!
Yep, I know it – but I don't know what to do about it.
It implies access that I don't have and won't get.
My knowledge and experience will see me through, eventually.
No matter what your response, you can find an approach to help you capitalize on what you know and who you know for greater success – in business and in life.
Here's an action tip you can use today, no matter where you are on your networking path start with this most important action item:  SMILE!